LURE – Liquid Underwriting and Rating Engine
Old design thinking pervades the insurance applications market. Most insurance software today has too many moving parts, which are assembled with mind-numbing complexity using arcane methods known only to IT experts. The result is business inertia and IT costs that are too high. Until now.
LURE is a fluid and agile digital insurance product and policy administration platform that represents a new way of thinking. The key service components of LURE are:
LURE Application: A complete application that is yet to be configured and populated by the remaining key service components.
Product Factory: Defines the archetype data and calculations for each 'line-of'business'
Product Engine: Extends the Product Factory to create and service individual products
Policy Administration System: An empty data container, plus a set of generic software services, which are 100% configured by the products in the Product Engine above
Migration Bridge: Seamlessly on-board, scrub, normalize, and merge external portfolios
Workbench: Model and build new business products; test and deploy existing ones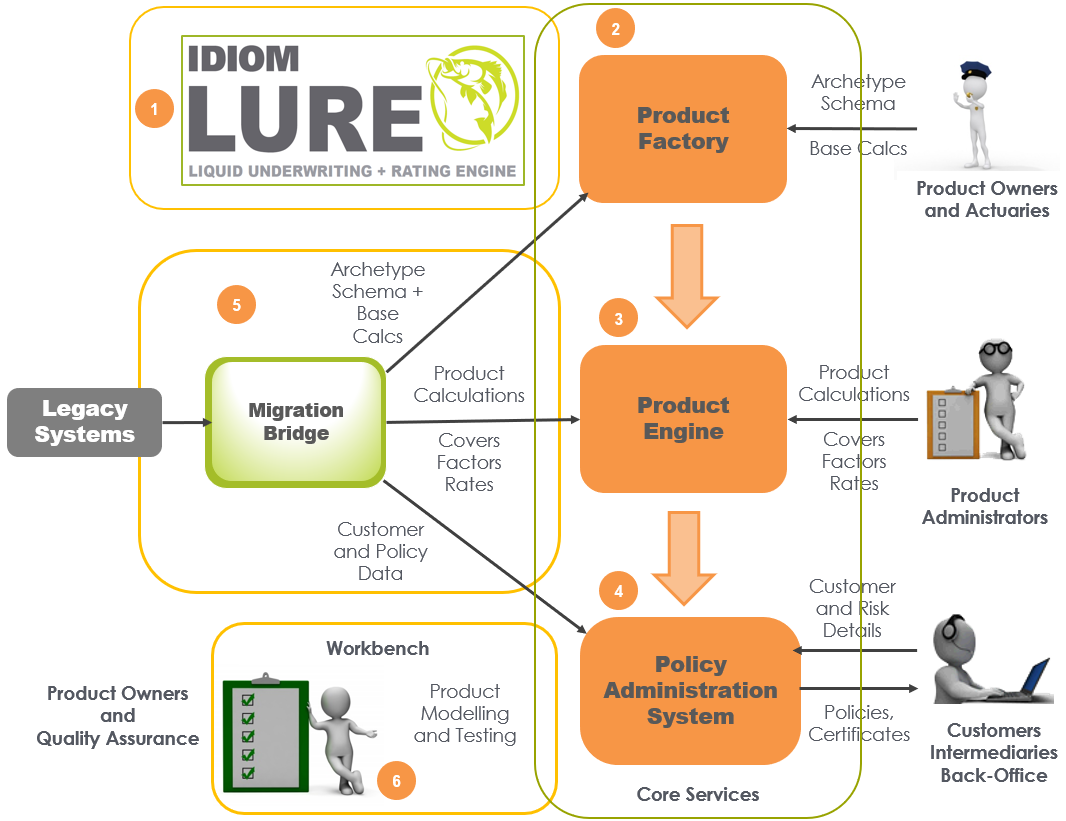 LURE results in profound new business outcomes:
Agile and Extensible – business experts build new Insurance products in one week or less
Nimble, Continuous, Perpetual – product configurations/calculations versioned forever
Cost Effective – total IT costs of <1% of GWP, including development and operations
Ready, Set, Go – develop and deploy your new insurance platform in just 100 days!
Fundamental changes that are taking place across the entire IT eco-system are driving the digital transformation of Insurance. Digital insurance platforms are delivering incredible improvements in business agility and speed to market, at less cost.
At an operational level, utility compute platforms like Microsoft's Azure 'Platform-as-a-Service' [PaaS] are driving costs down, while improving scalability, security, stability, functionality and agility. Best-of-breed infrastructure 'technology stacks' that once required entire departments to install and manage are now set-up on-demand using powerful scripts.
And at the application level, new software development approaches are leveraging the new utility technology stacks described above. Technical terms like 'containers' and 'micro-services' are being used to embrace the common-sense concept of shrink-wrapped and commoditized software services. These services are dynamically orchestrated into new business processes in real-time to provide the essence of business agility.
IDIOM Decision Manager is the strategic ingredient that allows LURE to configure and orchestrate software services to achieve revolutionary business agility. This unique, industrial strength tool enables your business owners, or their proxy business analysts [collectively, Subject Matter Experts or SMEs] to quickly build, test, and deploy the decision-making required to initially configure, and then to orchestrate in real-time, all of your business processes for dynamic 'best next' processing. With LURE, 100% of the business logic, the calculations, and the business rules used by your systems are in the hands of your SMEs.
With bespoke service configuration and orchestration provided by your business SMEs using the IDIOM Decision Manager, the LURE digital platform is always aligned with your business policies and imperatives, by definition. Gone are the costs, risks, complications, and constraints of the traditional Software Development Life Cycle. IDIOM Decision Manager is the essential enabler that allows LURE to fully exploit the new IT eco-system efficiencies, to deliver a fully personalised, highly agile, full policy life-cycle insurance system in just 100 days.
At the same time, LURE addresses the major inhibiter of platform change – migration. Migrating legacy portfolios to new systems is risky and costly. With LURE, migration is an integral part of the product and process configuration processes, so that the risks and costs of on-boarding are minimised. And to reduce risk even further, LURE includes an on-board Workbench for simulating and testing new insurance concepts and products, both during and post-migration.
Download the LURE Brochure (6pages) here.
Download the complete LURE Slide Deck here.