Lloyd's Cover Holder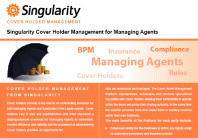 Cover Holders provide a key source of underwriting business for both Managing Agents and Syndicates in the Lloyds market. Cover Holders vary in size and sophistication and often represent a disproportionate overhead for Managing Agents to administer.
Singularity and RHE Group (Systems Integrator) have brought together IDIOM Decision Manager (Rules Engine) and the Singularity Process Platform (Business Process Management - BPM) to provide a specific solution that interfaces with the latest Microsoft technology. The purpose is to significantly improve the way Managing Agents work with their Cover Holders. This solution provides a highly customizable platform that facilitates efficient, compliant and visible Cover Holder management.
Singularity's Cover Holder Management Platform enables Managing Agents to concentrate on generating premium income from business with Cover Holders, whilst ensuring compliance, performance and risks are understood and managed. The Cover Holder Management Platform standardizes, automates and controls operational interaction with Cover Holders allowing them full flexibility to operate within the terms set out by their binding authority. At the same time the solution provides tools that assist them in building revenue within their own business.